National Crime Victims' Rights Week
The 2022 National Crime Victims' Rights Week (NCVRW) Resource Guide artwork is now available online to help your site plan its public awareness activities in advance of, and during, NCVRW.
NCVRW will be commemorated April 24–30, 2022
Use the 2022 NCVRW artwork to help inspire your community and raise awareness of victims' rights. The 2022 NCVRW theme is Rights, access, equity, for all victims. This year's theme underscores the importance of helping crime survivors find their justice by:
Enforcing victims' rights
Expanding access to services
Ensuring equity and inclusion for all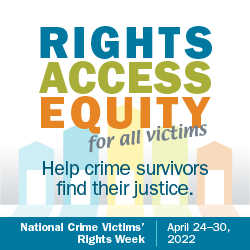 Join the VADOC Victim Services Unit, along with crime victims, survivors, and advocacy organizations nationwide in raising awareness of victims' rights and services, celebrating progress achieved, and honoring victims and the professionals who serve them.
Update your preferences or sign up for the NCVRW subscription list to receive important email updates, including the online release of the complete 2022 NCVRW Resource Guide through the Office for Victims of Crime.
The Virginia Department of Corrections (VADOC) observes NCVRW each year by sponsoring or participating in various activities throughout the month in support of victims. Feel free to share these activities with your family, friends, or coworkers to help bring awareness to those who have been harmed because of crime. View our 2022 NCVRW Brochure for more information.
Poster Competition
This is an annual event where we encourage inmates, probationers, and parolees to compete in a poster challenge to celebrate National Crime Victims' Rights Week. This activity is meant to provide an opportunity to discuss the impact of crime on victims and how they can take accountability for their actions.
How to Vote
This year the posters will be on display at VADOC Headquarters in Richmond. The public can view the posters and vote for their favorites. The voting form will open on April 25, 2022 at noon and close on April 29, 2022 at noon. Winners of the poster contest will be announced Friday, April 29 after voting has closed. Awards will be given for each of the following categories: Theme, Empathy, and Accountability.
Color ME Aware
NCVRW is dedicated to awareness and commemoration of crime victims, as well as reflection on the impact crime has on our communities. For 2022, we also have added Color ME Aware days. Show your support for crime victims by wearing each day's theme color.
Color ME Aware Days (4/25–4/29/2022)
Monday – DUI – Red
Tuesday – IPV/DV/ Stalking – Purple
Wednesday – Gun / Gang violence – Green
Thursday – Child Abuse – Light Blue
Friday – Homicide – Dark Blue

We have also added fact sheets for each crime to be used during activities for your family, friends, and coworkers to bring awareness to each of these five crime types during those days.

IPV / DV / Stalking Awareness Fact Sheet
Gun / Gang Violence Awareness Fact Sheet
Child Abuse Awareness Fact Sheet
Each Fact Sheet has been created with visuals in mind. The front may be used as a poster on the fridge, the office bulletin board, or at a community center. The back has activities to further the dialogue on crime and what victims go through. Depending on your group's focus, this might just be the beginning. Use your creativity to spark additional ideas to create awareness.
The fact sheets were created using materials from the Victim Impact: Listen and Learn curriculum found on the Office for Victims of Crime website. For more information, visit Victim-Centered Programs.
Voting Ambassadors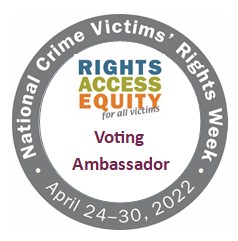 As a part of our activities, we are recognizing staff who are willing to share about the NCVRW activities throughout the month of April. We are doing this through the Voting Ambassador program. Staff will receive additional printed materials and a button to wear daily. This simple NCVRW button can spark dialogue about crime victims and the things that they experience because of crime victimization. As a part of the dialogues, Voting Ambassadors also help spread the word about the annual poster contest. They help others gain access to the online voting platform.
Second Annual Radford 5k Run / Walk
Our second annual 5k Run/Walk will be held in person and virtually for NCVRW. The event will take place on Saturday April 23, 2022 and will kick-start the events for NCVRW (April 24–30, 2022).
Courage Day 5K
Our allied partner, The Courage Closet, is holding a 5K to bring awareness to DV/IPV victims. This is an in-person event which will be held on Sunday, April 24, 2022 at Franklin Park in Purcellville, VA. It is a family-friendly event with a kids fun run and more.
Pinwheel Gardens
April is recognized nationally as Child Abuse Awareness Month. While we will be highlighting that crime type on the Color ME Aware days on Thursday of NCVRW, the Department is also encouraging units across the state to place pinwheels in front of their units. The pinwheel was introduced in 2008 by Prevent Child Abuse America as the new national symbol for child abuse prevention.
Why the Pinwheel?
Because by its very nature, the pinwheel connotes playfulness, joy, and childhood. It has come to serve as a physical reminder of the great childhoods we want for all children. VADOC Headquarters in Richmond will also have a pinwheel garden in front of the offices. You can find activities to do with your friends, family, and coworkers on the Child Abuse Awareness Fact sheet for Color ME Aware days.