Agency News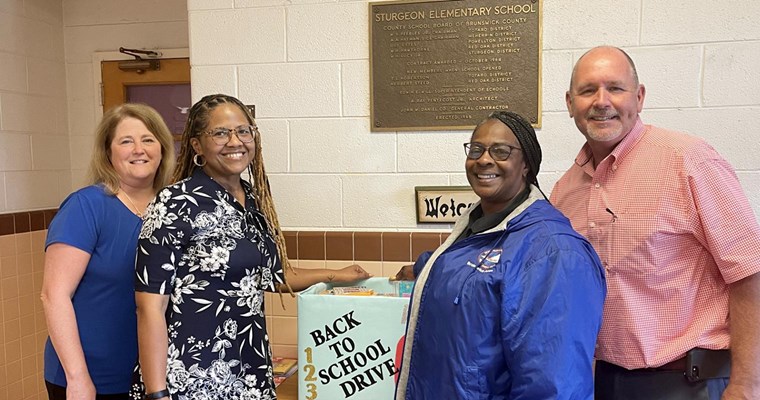 VADOC Facilities and Offices Donate Thousands of Dollars in School Supplies Across Virginia
October 03, 2023
From Norfolk to Norton, from Staunton to Suffolk, Virginia Department of Corrections (VADOC) employees donated bundles of back-to-school supplies to students, as VADOC staff did its part to ensure a successful start to the new school year for many across the Commonwealth.
"Going back to school is a time of growth and change for families. For many it is also a strain on the family budget. We hope these donations make that process a little easier on the children and the parents," said VADOC Director Chadwick Dotson.
While many staff made straight contributions of backpack-filled supplies to local schools, others helped in different ways. Pocahontas State Correctional Center joined the Tazewell County Sheriff's Office to feed attendees at a Back-to-School Bash event that provide supplies to area children.
Green Rock Correctional Center in Chatham teamed up with District 22, Martinsville Probation and Parole to provide school supplies for children of incarcerated individuals at Green Rock. Supplies donated by Green Rock, District 22, and Collinsville Community Fellowship went to inmates' children, who received a bookbag with supplies and a letter from their incarcerated parent. The remaining bags and supplies were donated to Gretna Elementary and Southside Elementary Schools.
"These efforts demonstrate the generosity of employees and their ongoing willingness to make their communities better," Director Dotson said.
A full breakdown of the VADOC's back-to-school efforts and donations can be found below:
Virginia Department of Corrections Central Region:
The Central Region raised a total of nearly $5,000 for students returning to school.
In all, Baskerville Correctional Center, Beaumont Correctional Center, Coffeewood Correctional Center, Nottoway Work Center, Chesterfield Women's Community Corrections Alternative Program (CCAP), District 10, Arlington, District 21, Fredericksburg, District 25, Leesburg, District 29, Fairfax, District 35, Manassas, District 36, Alexandria, and District 41, Ashland participated.
Virginia Department of Corrections Eastern Region:
District 6, Suffolk Probation and Parole provided 20 backpacks full of school supplies to a local school. Sussex II State Prison provided approximately $300 worth of supplies. Brunswick CCAP gathered about $250 worth of supplies and District 19, Newport News Probation and Parole provided 85 total school supplies for a local middle school.
Virginia Department of Corrections Western Region:
In addition to the efforts of Pocahontas and Green Rock mentioned above, District 40, Fincastle Probation and Parole raised more $400 in supplies. District 17, Abingdon Probation and Parole's Russell Sub-Office collected approximately $150 worth of supplies for 10 students. District 16, Wytheville Probation and Parole collected about $200 worth of supplies. District 12, Staunton Probation and Parole donated 22 backpacks to a local elementary school.
Thank you to all VADOC offices and facilities for their help getting students back to school.