Agency News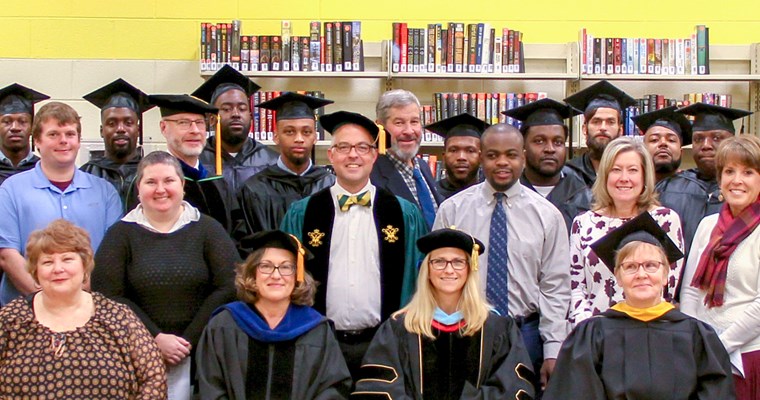 105 Graduate at Haynesville Correctional Center, 17 Receive Associate's Degrees
November 18, 2019
Haynesville Correctional Center held its annual graduation October 25, honoring 105 graduates including 17 who received Associate of Arts degrees from Rappahannock Community College (RCC).
Thanks to its unique partnership with RCC, Haynesville is the only correctional center in the state offering academic Associate of Arts degrees.
"You've changed the narrative of your life. You've earned a legitimate credential from Rappahannock Community College," said the event's keynote speaker, RCC President Dr. Shannon Kennedy. An additional 14 students earned a General Education Certificate, a necessary prerequisite for an Associate's.
Warden Darrell Miller and Principal Dante DaWalt offered opening remarks to a gymnasium filled with students, aides, staff, many family and friends and guests from neighboring facilities Haynesville Correctional Unit and Caroline Correctional Unit.
"We're grateful to the Rappahannock Community College for the ongoing success of our partnership," said Principal DaWalt.
Corrections professionals have long held that increased education, especially the resulting improvement in critical thinking skills, increases the likelihood of reentry success. HCC offers a variety of classes at night including economics, biology, mathematics, religion, English and African American literature.
Twenty-four students completed the barbering course, and 17 earned barbering licenses. Two earned barbering instructor licenses, meaning they can teach barbering upon their release.
HCC's graduation by the numbers:
| Degree or Program | Graduates |
| --- | --- |
| GED | 08 |
| La Plaza Comunitarias | 01 |
| RCC - General Education Certificate | 14 |
| RCC - Associates Degree | 17 |
| Animal Trainer Apprenticeship | 01 |
| Barbering | 24 |
| Barbering License | 17 |
| Barbering Instructor License | 02 |
| Carpentry Apprenticeship (Nottoway) | 01 |
| Cooking And Baking Apprenticeship | 01 |
| Electrical | 12 |
| Electrical Apprenticeship | 01 |
| HVAC (Greensville) | 01 |
| Masonry | 05 |