Agency News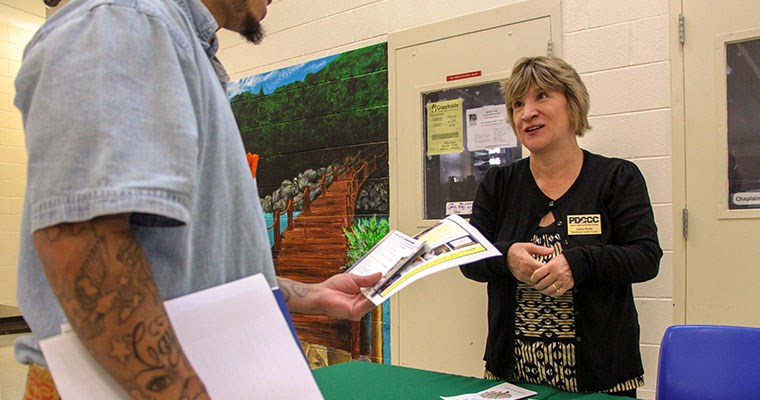 At ICCC Job and Resource Fair, Offenders Explore Career and Educational Opportunities
December 17, 2019
In the middle of the second day of Indian Creek Correctional Center's (ICCC) three-day Job and Resource Fair, the local community college representative is talking about forklifts.

"A forklift certificate takes three days to obtain and is good for three years," said Lisha Wolfe of Paul D. Camp Community College (PDCCC).
Ms. Wolfe was one of more than 20 guests representing community agencies, educators, trainers, employers, and employment agencies. They met with approximately 300 offenders over the event's three-day run from October 29 to 31.
"We know these events often play a critical role in helping a returning citizen make that first positive step in gaining a job after he returns to his community. We are grateful for the generous ongoing support of our community partners," said event organizer, ICCC Offender Workforce Development Specialist Alan Dorrough.
The event's second day focused on education and training and included representatives of the Virginia Alcohol Safety Action Program (VASAP), Spectrum Health Systems, the State Corporation Commission Bureau of Insurance, and the Virginia Department of Labor and Industry (VDLI).
As a group of interested men stood around him, VDLI representative Rick Brooks said he often takes it a step further. He not only educates, he counsels. "I don't just talk this," he said pointing to his display. "I talk life."
The right attitude and the right certificate can often make a big difference, and that's the big motivation for community partners like VDLI's Mr. Brooks and PDCCC's Ms. Wolfe.
"What I am hoping to do is help men obtain certificates through Paul D. Camp that will help them obtain full-time employment," Ms. Wolfe said.
Paul D. Camp offers non-credit certificates and certifications in a variety of areas available to returning citizens including cyber security, commercial driver's license (CDL Class A & B), welding, and safety (OSHA 10 and OSHA 30) certifications.
Ms. Wolfe hopes PDCCC soon will expand its offerings at ICCC to include the four-week Certified Logistics Technician (CLT) course, a preparation for jobs in large warehouses that teaches safety, equipment operation, computer skills, and problem solving among other things. PDCCC began offering the course at Deerfield Correctional Center last year.