Agency News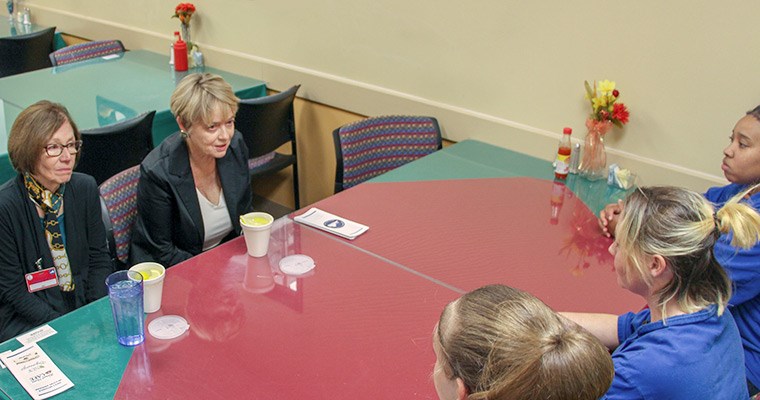 National Experts on Gender Responsivity Visit VADOC
November 22, 2019
As part of its continuing efforts to improve gender responsivity, the Virginia Department of Corrections recently hosted two nationally recognized experts on the development and implementation of gender-responsive and trauma-informed services for incarcerated women.

Dr. Stephanie Covington and Dr. Barbara Bloom are the co-directors of the Center for Gender and Justice in La Jolla, California.
They toured Virginia Correctional Center for Women, Fluvanna Correctional Center for Women, Central Virginia Correctional Unit, State Farm Work Center, and a women's community residential program, Friends of Guest House. The pair observed and made suggestions that VADOC will take under consideration in its ongoing efforts to be more responsive to the needs of female offenders.
Dr. Covington and Dr. Bloom participated in several focus groups with both staff and incarcerated women to discuss the various barriers and challenges facing Virginia's system including issues related to policies, programming, operations, health, and diet.
On their second day of visits, Dr. Covington and Dr. Bloom stepped into a Cognitive Therapeutic Community class at the Virginia Correctional Center for Women in Goochland and discovered that the VADOC facilitator and students were learning from "Beyond Trauma," one of Dr. Covington's curriculum courses.
On their last day, they stopped in Richmond to visit Almost Home Café to meet the incarcerated women who train there in food services.
This was a first visit for Dr. Covington and Dr. Bloom. "What's important about our visit is that it shows Virginia is beginning to look specifically at the women in its system," Dr. Covington said.
Dr. Bloom and Dr. Covington plan to return in February of 2020 to provide training to facility staff and executives.
Wendy Goodman in the Division of Programs, Education, and Reentry noted that "Being able to collaborate with two nationally-recognized experts in the field of gender-responsive/trauma-informed women's correctional practices and women's pathways to crime allows us as VADOC staff to challenge and expand our current ways of thinking in terms of how we provide programming and operational practices for the women in our custody and care."