Agency News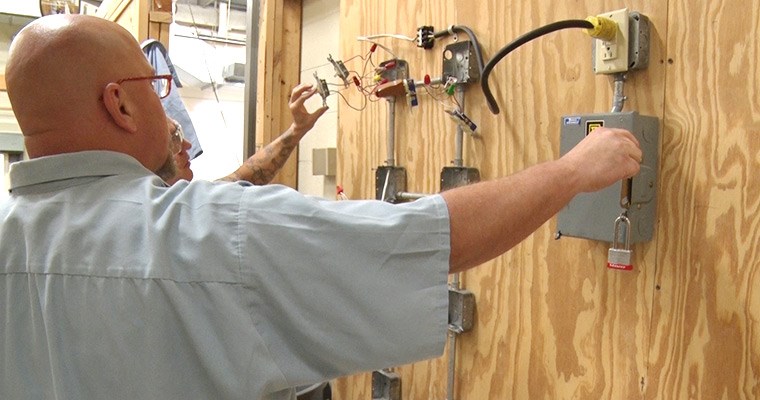 Electricity Courses Provide a Conduit to Opportunities In- and Outside Prison
January 07, 2020
For Robert Yarborough, opportunity means a chance to return to Roanoke, Virginia with training and employable skills to help him become a journeyman electrician.
For William Gutersloh, opportunity means helping men like Yarborough navigate the courses and earn potentially life-changing certifications.
Both men spend part of their days engaged in textbook and hands-on learning in the Electricity Course at Keen Mountain Correctional Center. Gutersloh, who is serving a life sentence without parole, acts as a tutor.
"Before I was arrested, I was working as a nurse and I enjoyed helping people," says Gutersloh. "If I can help these guys that are getting out, that's my goal."
Yarborough is one of those people getting out, with just a little more than a year remaining on his nine-year sentence.
"This gives me an opportunity to look at life a little bit better."

Yarborough says he always had an interest in electronics and figuring out how things worked. Through the course, he is not only learning how things work but also how to create and troubleshoot various wiring plans.
"In the beginning, you have bookwork. You've got computer work. But after the third unit, it's more hands-on and that's when you really get the feel for what you're going to be doing out there in reality," says Yarborough.
In additional to earning certification for the course, the participants also earn an Occupational Safety and Health Administration 10-hour card for the included safety training.
Gutersloh adds, "If you come to prison and don't change, don't enhance your education and get some opportunity to get out and stay out, you're going to come right back. If you had a vocation like electricity, not only can you support yourself but you can also move up and become a journeyman, become a master electrician, or start your own business someday."